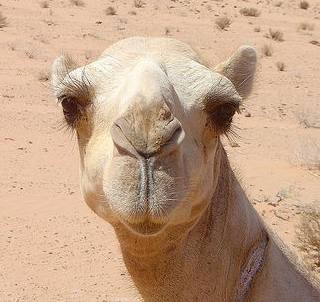 Sorry about the back-to-back-to-back sports posts. I'll get back to the works once I get my internet situation under control. Who in the hell has dial-up anymore? My father, that's who
When socially irrelevant people -- or animals -- decide to take a stand on something, most people do the right thing and ignore it. But since it involves Michael Vick, a damn camel who picks NFL winners by eating a damn graham cracker decides to boycott this season and people feel the need to write about it.
Take note.
Philadelphia Eagles fans thirsty for predictions on whether their team will win
or lose each week won't get them from a New Jersey pigskin-prognosticating
camel. Princess, the star of Popcorn Park Zoo, won't predict the results of any
Eagles games this season to protest the signing of quarterback Michael Vick.
Vick spent 18 months in prison for organizing a dogfighting ring.

The 2,600-pound camel went 17-4 last year and correctly picked the Pittsburgh
Steelers to win the Super Bowl. [Source]
The only reason I know about this camel is because she/he/it is always featured on the local Philadelphia morning news during the NFL Playoffs to hopefully predict an Eagles Super Bowl win. We've never won a Super Bowl. How about
those
humps.
Pigskin-Picking camel snubs Eagles because of Vick
[AP via Philly.com]